As part of their ongoing series, The Empowered PCP, agilon health sat down with Dr. Victoria DiGennaro, family physician at Northampton Primary Care in Cuyahoga Falls, and a member of agilon health's Female Physician Leadership Council, to hear her thoughts on achieving gender equity in the field of primary care and why women need a seat at the table.
---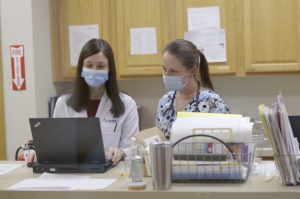 Q: WORK-LIFE BALANCE IS SO OFTEN FRAMED AS A MOMS-ONLY OR WOMEN-ONLY ISSUE. HAVE YOU NOTICED THAT THE DADS IN PRIMARY CARE MEDICINE ARE SPEAKING UP MORE THESE DAYS ABOUT WORK-LIFE BALANCE AS WELL? 
Yes, I think the conversation is becoming more about work-life balance for both moms and dads because the narrative has changed. Traditionally, this was a very male-lead profession and for the most part (although I'm not speaking for everyone), a lot of the male physicians would have wives that worked part-time or were stay-at-home moms. But now, men are much more a part of taking care of the children, taking care of the house, being part of that, and that's wonderful. So it is more an issue of working parents as opposed to just working moms.
I think the difference is women do have a slightly different challenge in medicine because, again, it's traditionally male-dominated. Women in medicine sometimes have to overcome biases and discrimination; the questions that are sometimes asked of me, or the expectations surrounding me, are very different than my male counterparts.
Follow the link to read on: