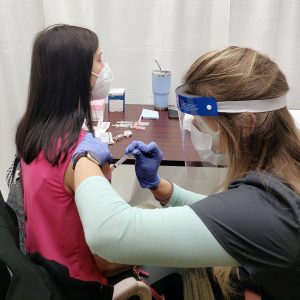 Our very own Dr. Victoria DiGennaro of Northampton Primary Care receiving the first dose of the Moderna COVID-19 vaccine on Monday, Dec 28!
On December 18, 2020, the U.S. Food and Drug Administration issued an emergency use authorization (EUA) for the second vaccine for the prevention of coronavirus disease 2019 (COVID-19) caused by severe acute respiratory syndrome coronavirus 2 (SARS-CoV-2). The emergency use authorization allows the Moderna COVID-19 Vaccine to be distributed in the U.S for use in individuals 18 years of age and older.
To learn more about the Moderna COVID-19 Vaccine, click here.